UN-CHILLFILTERED COLLECTION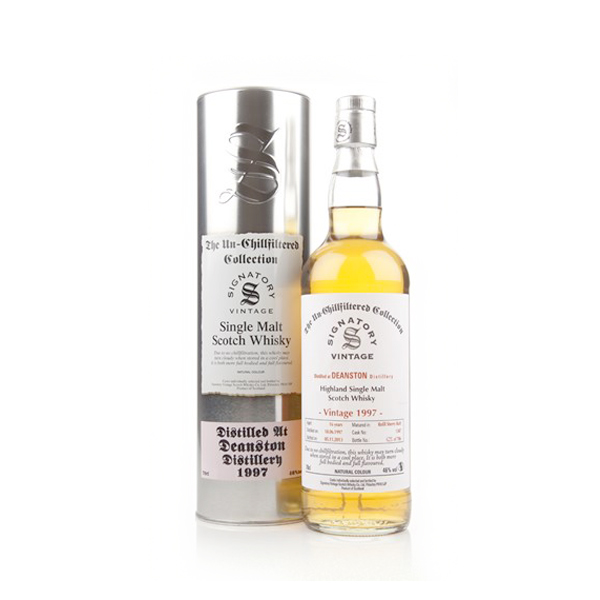 ITEM NO: SS581
AGED: 16 years
DISTILLED ON: June 1997
BOTTLE ON: September 2013
MATURED IN: refill sherry
CASK NO: 1345
BOTTLE NO: 719
---
Deanston distillery is a Single malt Scotch whisky distillery located on the banks of the River Teith. Once a cotton mill, the building was transformed into a distillery in 1966 where it continues to produce an outstanding Highland single malt Whisky to this day. The whisky is handmade, un-chillfiltered, naturally colored and bottled at a strength of 46.3%. There are no computers used in production, as they prefer to rely on the ancient art of distilling and the keen eye of their craftsmen to guarantee quality in every drop of this precious liquid.
---
TASTE NOTES
COLOR: caramel
NOSE: A sharp spice with fresh ginger snaps, tangy cardamom and crushed black pepper. Behind this comes a slightly soapy floral aroma but this is quickly pushed aside by notes of sour apples and zesty oranges. A creamy toffee with pineapple chunk sweets finishes off this interesting dram.
TASTE: The sweet and the spice from the nose flow together to create a very warming impression. Lemons and limes (zest and all) are thrown into the mix.
FINISH: Syrupy toasted malt and charcoal finish.
ABV: 46%
PER CS: 6
SIZE: 750