UN-CHILLFILTERED COLLECTION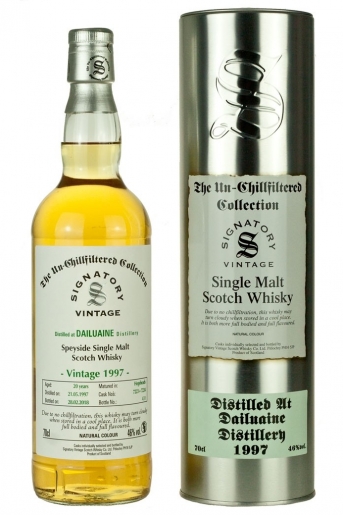 AGED: 20 years
DISTILLED ON: May 21, 1997
BOTTLE ON: February 22, 2018
MATURED IN: Hogshead
CASK NO: 730
BOTTLE NO: of 39
---
William Mackenzie, a farmer from the Speyside town of Carron, built the
Dailuaine distillery in 1852. Dailuaine derives from the Gaelic 'An dail uaine'
meaning 'green valley'. After William passed away in 1865, James Fleming, a
banker from nearby Aberlour leased the distillery. Between 1884 and 1887
Flemming rebuilt and expanded the distillery, making Dailuaine one of the
largest distilleries in the Highlands at that time. After a fire in 1917, the distillery
was forced to close, but opened again in 1920. The second expansion in the
distillery's history was in 1960, when the distillery expanded from four to six
stills. Just like many other distilleries, Dailuaine became part of industry giant
Diageo when United Distillers and International Distillers & merged in 1998.
---
TASTE NOTES
COLOR: Natural color
NOSE: Floral lavender makes way for crème brûlée, sticky malt and creamy
vanilla. Heather honey, menthol thyme and a spicy kick of cumin bring depth
TASTE: Buttered granary toast, sawdust and overripe pear, before nutty
chocolate arrives and the cumin returns
FINISH: Sugared almonds and red apple sweetness in a medium-length finish