CASK STRENGTH COLLECTION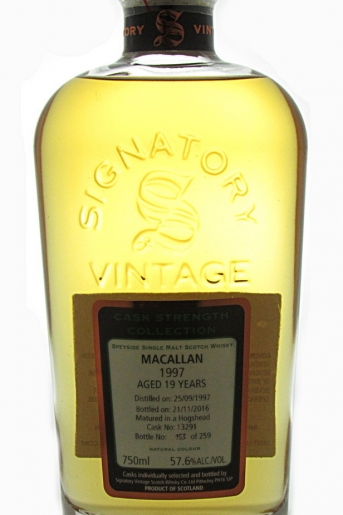 AGED: 19 years
DISTILLED ON: September 25, 1997
BOTTLE ON: November 21, 2016
MATURED IN: Hogshead
CASK NO: 13293
BOTTLE NO: of 174
---
Built in 1700 from locally quarried sandstone for Captain John Grant, our Spiritual Home, Easter Elchies House, is a fine example of a Highland manor house. We carefully select the finest quality spirit from our stills to ensure we create the best single malt whisky. This finest cut ensures we produce our signature viscous mouth-feel and fruity aroma and flavour. This small portion, or 'cut' is incredibly selective and one of the finest in the industry. It is primarily responsible for the full-bodied richness of The Macallan new make spirit. This clear colourless spirit is selected at just under 70% alcohol by volume. Distinctly robust and characterful this 'new make' spirit is the starting point for all Macallan.
---
TASTE NOTES
COLOR: Full amber
NOSE: Vanilla and oranges, with underlying dried fruits and oak. Palate: Warm and peppery, with oranges, caramel and a hint of nutmeg.
TASTE: Smokiness, roasted nuts, strawberry jam, orange zests and cooked honey.
FINISH: Rather long, on a pepper/sherry combination and just a faint dustiness
ABV: 54.7%
PER CS: 6
SIZE: 750 mL