86 PROOF COLLECTION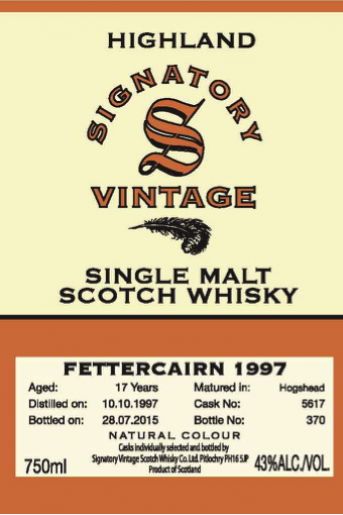 AGED: 17 years
DISTILLED ON: October 10, 1997
BOTTLE ON: July 28, 2015
MATURED IN: Hogshead
CASK NO: 5617
BOTTLE NO: of 370
---
Fettercairn Distillery was founded by Alexander Ramsay in 1824 on the edge of Fettercairn village at the foot of the Grampian Mountains within the Highland whiskey region. The site was originally a corn mill. This is a malt whiskey distillery equipped with four stills and operates a unique system whereby cold water tumbles down the exterior of its two spirit stills contributing to the lighter floral character in Fettercairn malt whiskey. Fetercairn malt whiskey is available through a number of independent bottlers including Gordon & MacPhail Connoisseurs Choice and Signatory Vintage.
---
TASTE NOTES
COLOR: Golden amber
NOSE: Stonefruit and honey, with a touch of gingersnap thrown in for good measure.
TASTE: Slightly earthy at first, but opens up with notes of white chocolate and fresh peach.
FINISH: Vegetal cedar notes and crunchy brown sugar.
ABV: 43%
PER CS: 6
SIZE: 750ml